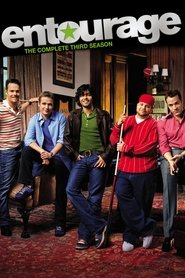 Entourage Season 3 Episode 9
The gang heads to Vegas for a much-needed break and a $100,000 promotional appearance for Vince. But it turns out that Turtle reaps the benefits from the appearance. Eric gets jealous when Seth Green makes insinuating comments about Sloan. Vince and Ari partner at the tables, but Ari loses it when Vince's luck ends. Drama lays it on thick with his masseur, leading to an awkward misunderstanding between them.
Episode Title: Vegas Baby, Vegas!
Air Date: 2006-08-06
Year: 2006